Page 3 - Winter Hill Bank Annual Report 2020
P. 3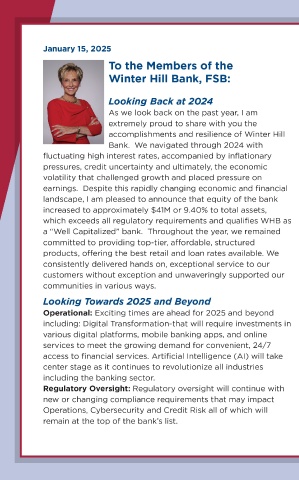 HIGHLIGHTS OF OUR ACCOMPLISHMENTS DURING 2020

     • In record time all of the departments contributed to implementing the
        bank's Pandemic Response Program ultimately ensuring that the bank
        remained open and operable. The Human Resource department
        provided numerous communications to all staff that included a
        reopening plan that ensured that all employees, their families and
        customers stayed safe and that WHB always remained in conformance
        with CDC and State guidelines.
     • Winter Hill Bank is a financial services industry and therefore designated
        as an essential business, the Management Information System team at a
        very quick pace, expanded the bank's ability to have many of our staff
        work remotely from home, while mitigating any cybersecurity threats
        that accompany this expanded remote capability. Subsequently
        maintaining the workflow, operations and efficiency of the bank.
     • The accounting and finance department supported all departments with
        daily financial reporting that was critical to the daily operations of the
        bank. They were also responsible for the continuation of audits and
        achieved outstanding results in the financial reporting of the bank.
     • The lending department worked tirelessly to ensure that WHB was ready
        to participate in the SBA PPP program and through the SBA's Payroll
        Protection Program, WHB granted loans to many local businesses
        totaling in excess of $3,000,000.
     • The lending management team secured $100,000 in limited funding
        through the Federal Home Loan Bank of Boston's, "FHLB's New England
        Recovery Grant Program" and provided grants to a number of qualifying
        non-profit organizations and local women and minority owned
        businesses ranging from approximately $6,600 to $16,000 each.
     • The lending department also assisted with payment deferrals for loan
        borrowers with aggregate loan balances of over $23,000,000. This was
        done to assist borrowers who were impacted by layoffs from their jobs,
        reduced business for those who own their shops, and for property
        owners trying to assist their tenants through difficult times.
     • The lending department assisted loan borrowers who either purchased
        or refinanced 1-4 family properties with loans totaling over $78,000,000.
        These loans allowed customers to take advantage of lower interest rates,
        reduce their debt payments and draw out much needed equity to meet
        their financial needs or obligations.
     • While businesses and investors
        struggled the Executive               Kevin Gatlin, Winter Hill Bank, Gonzalo Puigbo,
                                              CEO of Somerville Community Corp. and Jose
        Management Team was                         Cedanio, Somerville Community Corp.
        convinced that markets would
        rebound and provided
        commercial property and
        construction loans to borrowers
        totaling approximately
        $34,000,000.