Page 2 - Winter Hill Bank Annual Report 2020
P. 2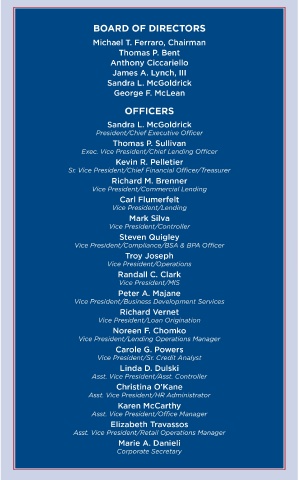 January 20, 2020

      TO THE MEMBERS OF THE
      WINTER HILL BANK, FSB:
      I take great pride in presenting to you the Annual Report outlining the
      performance of Winter Hill Bank (WHB) during the year 2020.  As we
      look back, we can all agree that it was a year filled with chaos and
      tremendous personal loss.  I would be remiss if I didn't mention the loss,
      due to COVID, of one of WHB's finest and dedicated officers, Pauline M.
      D'Aurora EVP & CLO, and the significant role and contribution she played
      at the bank for decades.  Ms. D'Aurora continues to be missed by her
      colleagues, co-workers, family and friends.  COVID took a lot from us but
      it did not break our spirit.

      The year started with a pandemic and we could only watch as the United
      States struggled through a health crisis of epic proportion.  An economic
      crisis soon followed that affected so many of our small businesses, many
      reporting unprecedented losses that required assistance from the U.S.
      Government. Many businesses
      generated little to no revenue
      and it was a difficult time as
      businesses struggled to stay
      afloat.  Unfortunately,
      mandated lockdowns
      occurred and some businesses
      who had closed temporarily
      were then forced to close
      permanently.

      The new year started much like the one that closed but what WHB
      promises about 2021 is to carryforward an abundance of optimism and
      the continuation of the banking relationships that we have developed
      with our existing and new customers.  There is more hope on the horizon
      as several COVID vaccines have been approved and the announcement of
      a second round of the Payroll Protection Program (PPP) will soon begin.

      I would now like to reflect and share with our members the
      accomplishments that were made during 2020 and, without the
      dedication, expertise and support of the management team and entire
                                        staff at the bank, it would not have
                   Peter Majane, Winter Hill Bank  been possible. Yes, WHB closed its
                 William Murphy, Somerville YMCA
                                        lobbies for several weeks but business
                                        continued and resumed quickly as
                                        customers began coming back into
                                        the branches and, in the interim, our
                                        online banking programs, drive-thru
                                        windows and ATM's all experienced a
                                        dramatic increase in usage.